The Goods - Shots (ft. Touch Sensitive & Disco J) [Music Video]
A personal project music video with 4 beautiful roller skaters!
As the Director, I wanted to showcase that we artists feel free when we are doing what we love.
In this video, there are 4 sections, each showing in their own way of having a good time!
I wanted to explore multiple aspects of filmmaking with this project. First and foremost, I wanted to explore the camera movement with skates. As the Director of Photographer as well, I wanted to explore the possibilities of movements with camera on skates. One of the interesting look I was excited to try was the orbiting shot; where the camera rotates around the talent 360° degrees repeatedly as the talent skates down the road. Another few interesting look I wanted to explore is would my gimbal on skates create an on-stage music performance look?
The second aspect I wanted to explore was the film look. Not often there are projects where I can make a video look like film print, especially for commercials. This was an opportunity I gave myself, and I also wanted to explore the 4:3 ratio of film. When shooting, the I was able to utilize Sony FX6's Auto Variable ND with the auto exposure set to +2.75. The reason is because celluloid film is great at maintaining details in the highlights, and I did some testings on what +0 exposure would look, and it was quite underexposed. With +2.75 it was still able to maintain the highlights. Then in post production color grade, I used FilmConvert fully by inputting the camera which enabled Cineon to Print Film with Fujifilm 8553 ET film stock look. Immediately, the picture looked amazing. I added additional tweaks to enhance the talent or pop the image more.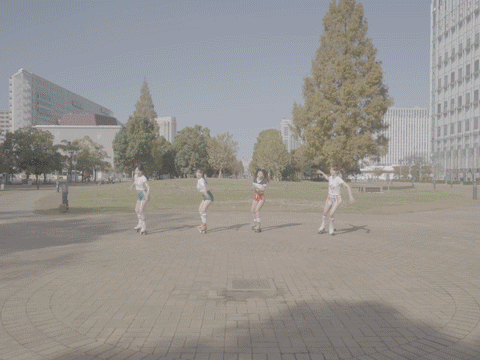 Overall, I wanted to challenge myself something new and uncommon, where it also shares that we artists feel the most free by doing what we love.
<Behind The Scenes Making Of Coming Soon>
Production: 44Latency
Kz Crew:
ChiKa
AOHA
amane
Rio
Executive Producer: Dixon Wong
Producer: Newton Soo
Director · DoP · Editor: Dixon Wong
Production Manager: Yohei Okada
Production Assistant: Tomoko Suzuki
Behind The Scenes: Newton Soo
Colorist: James Clayton Daniels & Dixon Wong
Online VFX: Dixon Wong
Special Thanks:
Frankie Cihi
Lorcan Odufuwa-Bolger
Music: The Goods - Shots (ft. Touch Sensitive & Disco J)